COMMITTEE MEMBER FOR CAD DIVERSITY, EQUITY, INCLUSIVITY & JUSTICE TASKFORCE (DEIJ)
2020-Present
Bringing my drive for equity and justice to the College of Art and Design (CAD), I volunteered to help co-chair the CAD DEIJ subcommittee for hiring and retention. With the help of two other staff, we created a survey that went out to all CAD faculty and staff with a wider goal of increasing diversity at RIT as a whole. We gathered information about how CAD could be more inclusive and help better represent the needs of our BIPOC and LGBTQIA communities. We recruited members who discussed various actions that could be taken. One action we encouraged fellow staff to take was to add pronouns to email signatures in support of our transgender students and colleagues. We are currently investigating funding to bring BIPOC and LGBTQIA artists to present their work and teach classes or workshops to bring more diverse voices to CAD.

At a Glance:
•Co-Chair for Faculty and Staff Recruitment, Retention, Advancement Subcommittee
•Develop Faculty Education for Creating, Promoting, and Maintaining an Inclusive Environment
•Co-Lead Engagement Workshops and Listening Sessions for Faculty and Staff
•Created DEIJ Survey to Identify Faculty and Staff Lived Experiences at RIT
SUMMER CAD DIVERSITY AND INCLUSION GROUP (DEIJ)
Summer 2019
I was a member of the CAD Diversity and Inclusion group which met weekly to have the hard conversations based on the content of
How to Be an Antiracist
by Ibram X. Kendi. We studied, reflected on, and discussed the level of representation and the presence of systemic racism within our work and classroom. From the knowledge I gained from this work, I revised the content in my curriculum to increase representation of historically oppressed groups. I continue to reflect on systemic harms, learn how to decolonize my curriculum, and implement strategies, tools and behavior that support diversity, inclusion, equity, and justice for my students and all community members.
Chair 2020-2022; Member 2018-2020
As the Chair of the CAD Awards Committee I created a shared system to improve workflow and deadline achievements. Along with members I reviewed and judged submissions and made recommendations for award winners. Being part of a Committee that determines awards for my colleagues and students was a joyous way to participate in CAD.
CILECT PRIZE ANIMATION JUDGING (International Association of Film and Television Schools )
2017-2021
Working with fellow members of the animation department I helped select the animation choices for best films for CILECT. This was a team building activity as the animation faculty worked together over summer break to watch the film selections and then collectively recommended our top choices.
2D/3D ANIMATION FACULTY SEARCH COMMITTEE MEMBER
2020-2021
I collaborated with fellow committee members to create a job description, reviewed and critiqued Curriculum Vitaes, participated in telephone and virtual interviews with candidates, and participated in final selection of candidates. I also networked with artists from diverse communities during the search phase to increase the diversity of our applicant pool
MAGICal PIZZA GATHERING aka ARTIST SPEED MEET & GREET
September 2019
Lecturer Jesse O'Brien and I created and facilitated this event to give students the opportunity to meet and collaborate with fellow student artists. Students created three-minute pitches to share their artistic visions and project needs. Our students reported this was a helpful networking opportunity which led to collaborations.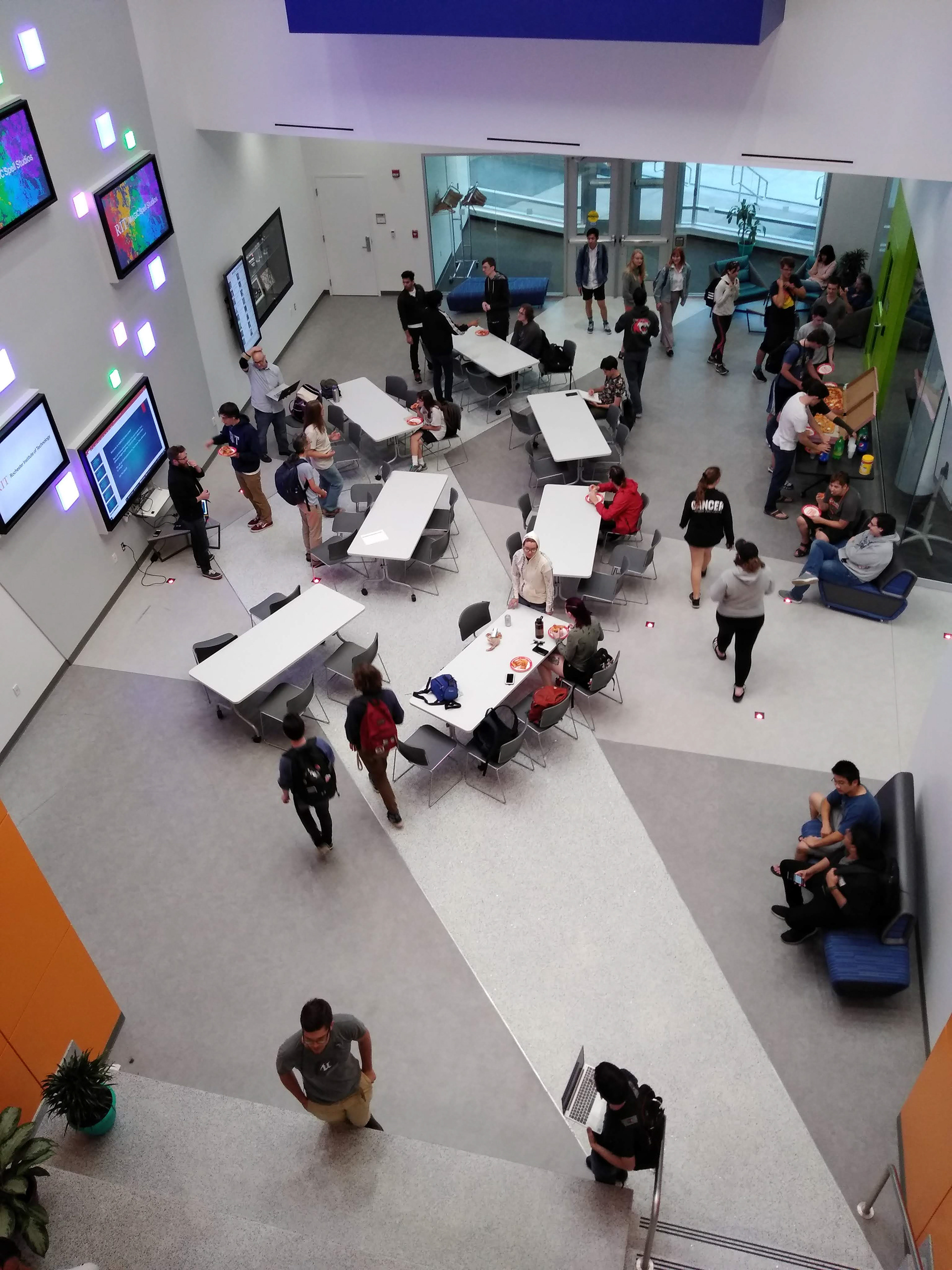 Students present their work in progress films or animatics including music and dialogue to the faculty and their fellow students at this annual screening day. I attend and participate providing responsive, specific and constructive critique to assist students in learning what revisions will improve their story, pacing, dialogue, and sound.
ANI-JAM 24 HOUR ANIMATION COMPETITION
2012-2017, 2019
I created, planned, organized, fundraised, and hosted the RIT Anijam Competition for seven years. This competition was open to the entire RIT community including faculty during which students worked together in teams of two to four to create a short film. In 24-hours students were able to experience and participate in the entire animation pipeline including story concept creation, storyboarding, environment creation, character modeling, animation, texturing, lighting, post production, and final presentation. All films were screened during the SOFA Film Screenings, with the audience helping to pick the three winning films. 
AniJam was a fun-filled event, but more importantly it provided participants with a tremendous learning opportunity. A 24-hour window to create a story and take it through all the steps of production to a final film taught students teamwork, collaboration, problem solving, to think efficiently, and to push through mental blocks to create a strong finished project. Students walked away proud of their accomplishments and amazed at how much and how well they produced when they set their goals high. 
To purchase food, drinks, and prizes I solicited sponsorships from both local and national organizations with total values averaging $4292 yearly with a total value of $30,044 in donations over the seven years.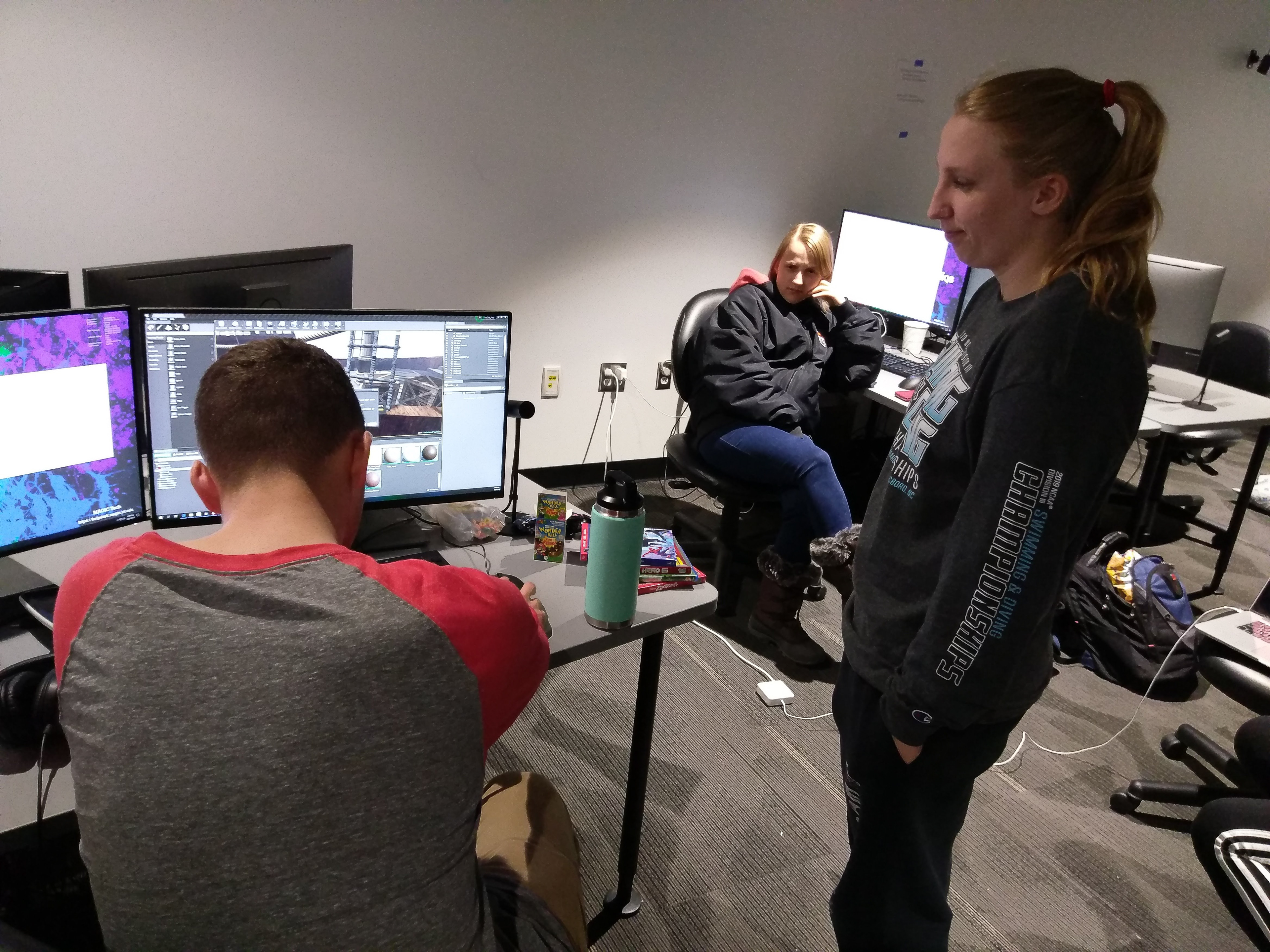 INTERNSHIP / CO-OP SPECTACULAR
2011-Present
Each year I plan, organize, and host Internship / Co-op Spectacular an opportunity for students who have completed internships to educate their peers on their experiences, for students considering an internship to learn the benefits of doing so, and an opportunity for students to learn about RIT Career Services. 

I coordinate nine to eleven student speakers and help them create a presentation where each speaker provides a personal story about their internship experience, how they obtained it, what they learned, and any specific tips they want their peers to know. After these presentations, I moderate a Q&A period followed by a mini internship class that I teach and a brief presentation by Career Services. Students often report they had not considered an internship until attending this event and are then often eager to participate as a speaker in subsequent years to share their experiences.