FRAMELESS LABS VR/AR/MR/XR CONFERENCE & COMMITTEE MEMBER
This conference is an RIT wide demonstration of the various virtual reality projects and research being done here at RIT.  I helped bring Wyatt Saverese from The Mill NYC to speak about the projects they have been working on in the areas of VR/AR/MR. In the Frameless committee, we discuss how Frameless Labs will conduct business and what areas of focus we will take the conference next time. Because of COVID we decided to host the symposium online one year.  It was my responsibility to research the best platform to host the symposium, and later on figure out the best way to make the online experience as close to real world as we could for our deaf and hard of hearing community.  This was especially difficult because the software was not designed for sign language.  But in the end we were successful and found a solution that worked. I created videos that demonstrated how the system would work and can be found in the button above. I am extremely proud of the work that was done to make this symposium a success and accessible. For this year's symposium, we had both an online and in-person sections.  The presentations were in person, but the mixer was online. We used the MAGIC Spell labs and people were able to converse with those who did not attend in person.  
I participate in RIT's annual Imagine RIT. This daylong event showcases various projects, research, and tools that both students and professors are creating or using on campus. In past years I have given demonstrations of Pixologic's ZBrush digital sculpting tool.  But as my focus of scholarship has changed over the years, in the images below, at this Imagine RIT, I gave demonstrations with student volunteers on how to draw in VR as well as give visitors the opportunity to try drawing in VR space as well.  The demonstrations were very well attended.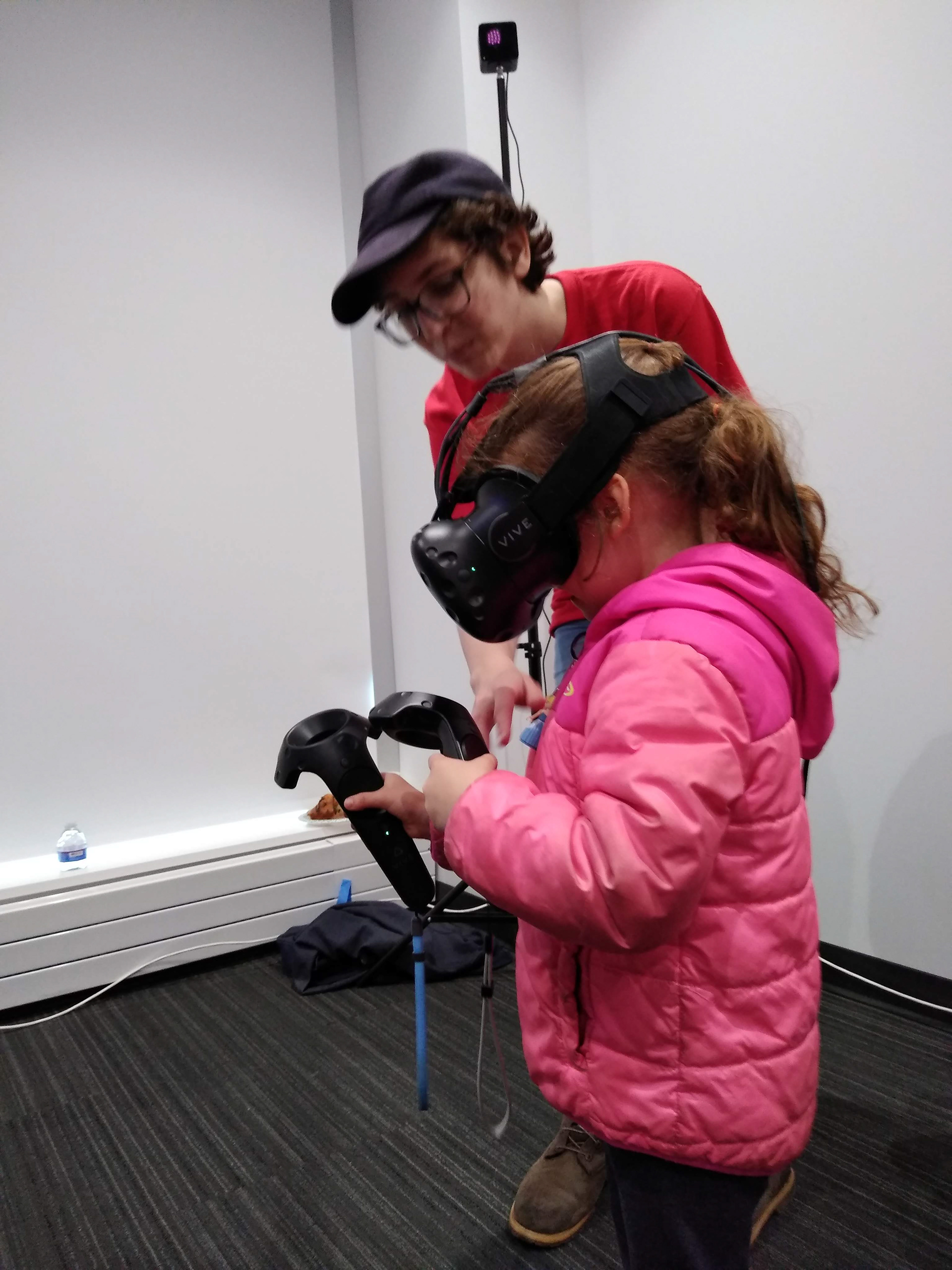 COMMITTEE MEMBER FOR CAD DIVERSITY, EQUITY, INCLUSIVITY & JUSTICE TASKFORCE (DEIJ)
I am on the subcommittee for Faculty and Staff Recruitment, Retention, Advancement.  We are tasked with the job of focusing efforts to increase diversity at CAD with a further stretch goal of increasing diversity of RIT as a whole. With a more diverse group of faculty and staff in CAD will further enable us attract a more diverse student body as a result. My role was to recruit members to our subgroup, co-lead meetings where ideas were generated, and follow up on actions discussed in the group. We are currently researching places areas of funding to bring ethnically diverse teachers to hold workshops, adjunct classes and disseminate their knowledge to our students.
SUMMER CAD DIVERSITY AND INCLUSION GROUP (DEIJ)
I was a part of the CAD Diversity and Inclusion group.  This group met once a week. We were assigned readings in Ibram Kendi's book

How to be an Antiracist

.  This was an open group that studied ways within our own work to help further promote Black, Indigenous and people of color (BIPOC). From this group, I reflected on my own curriculum. I found that the images I was showing in my classroom were heavily Caucasian.  I have since balanced my examples to represent a more diverse range of examples. 
EPIC MEGA GRANT COMMITTEE MEMBER
I am a part of the Virtual Production committee with MAGIC Spell Studios to help bring a virtual production curriculum to RIT.  In this group, I was tasked to research what type of technology and class content we should be investing in for the future. I helped review the documents needed to submit for the Epic Mega Grant. Our hard work paid off as we were awarded the largest grant Epic has given any institution at that time. Though I am not teaching the Virtual Production (VP) class, I still support those classes. I have been a main contributor in creating a working pipeline at RIT for connecting Unreal and the LED wall needed for VP as well as a method for camera tracking. Unreal updated from 4.26 to 4.27, this change greatly changed the previous pipeline we had already established.  I spent two weeks researching the new workflow and implementing it to our version of the LED wall.
CAD AWARDS COMMITTEE (CHAIR 2020-21)
This year I volunteered to chair the Awards committee again. This is my second year leading this committee. We review submissions and choose winners based on each criteria. I am in charge of giving assignments to the committee and getting their recommendations for the awards.
CILECT ANIMATION JUDGING (International Association of Film and Television Schools )
Over the summer I helped pick the animation choices for best films from CILECT.  The animation faculty came together and watched the entrants, then collectively selected our top choices.
2D/3D ANIMATION FACULTY SEARCH COMMITTEE MEMBER
Helped to find our next animation faculty member. I was trying to extend our search into areas where we could attract a more diverse candidate pool. 
MAGICAL PIZZA GATHERING
Jesse O'Brien and I created this event to give students the opportunity to ask for artists for their projects, or artist to look for projects to help with. Students had three minutes to give their elevator pitches and pizza was on hand.  It was a success and many new connections were made.
ANIMATIC DAY CRITIQUES
Students present their inprogress films and present them to the faculty and students in attendance. I attend to give critique to their current work. This is a vital time because there is still time to help their story make sense. The students have created animatics of the story with music and dialogue.
ANI-JAM 24 HR ANIMATION COMPETITION
Students are in groups of two to four students animating a story based off a given theme.  The contestants do not have any knowledge of the topic that will be given beforehand.  The students will have to create a story and animate to that theme within 24hrs. I have been able to raise between $4,000 - $9,000 in food and prize donations.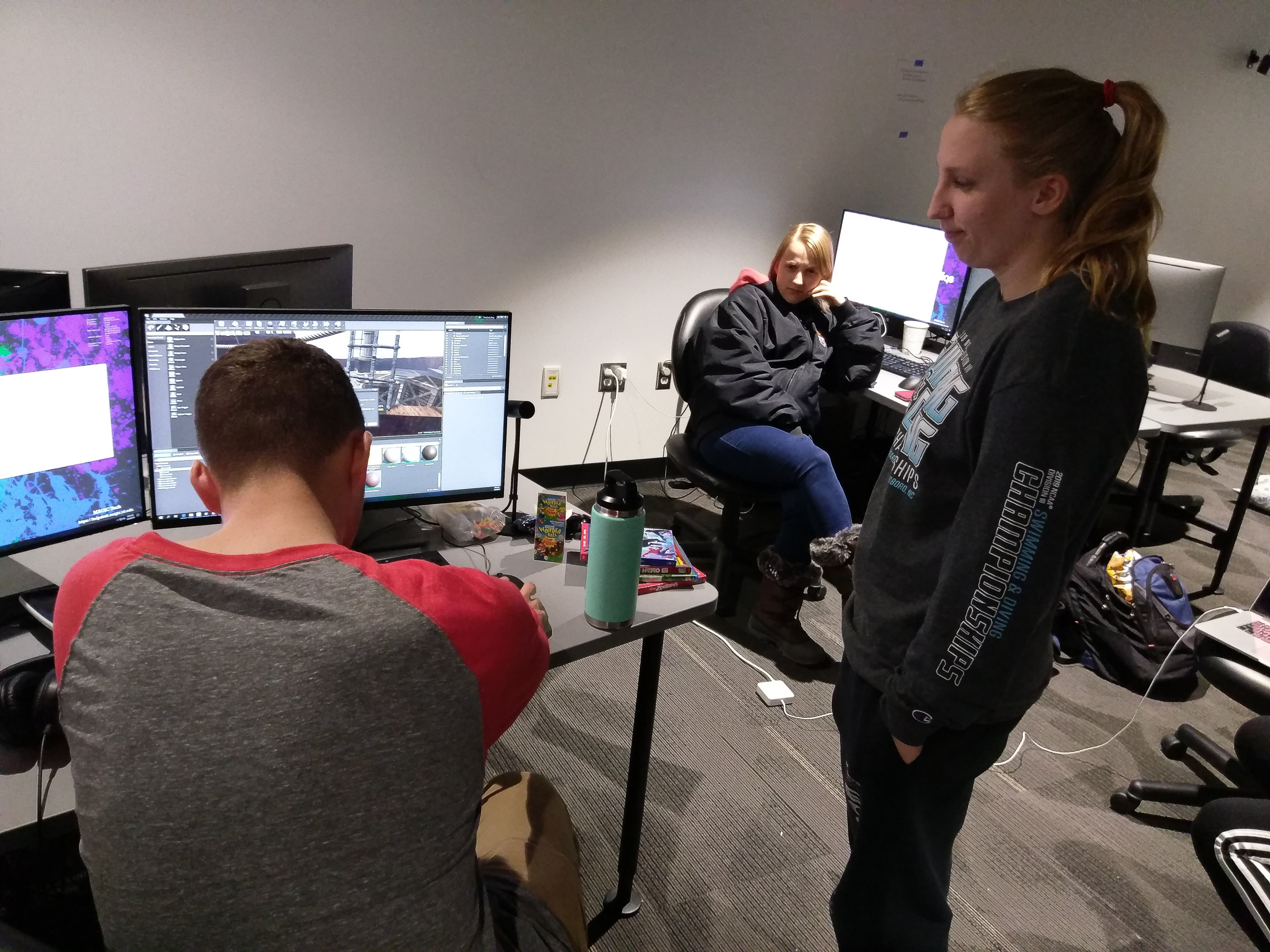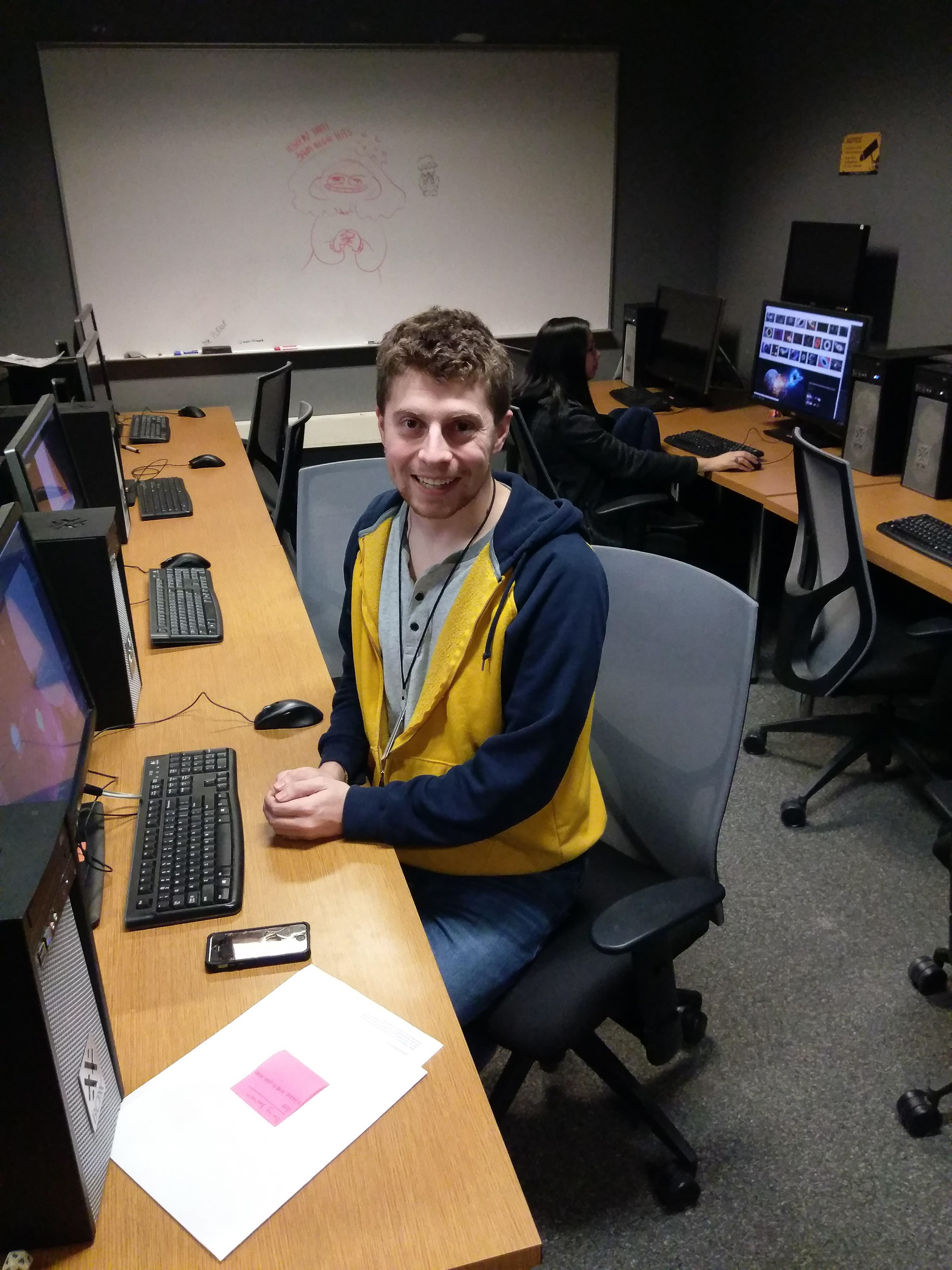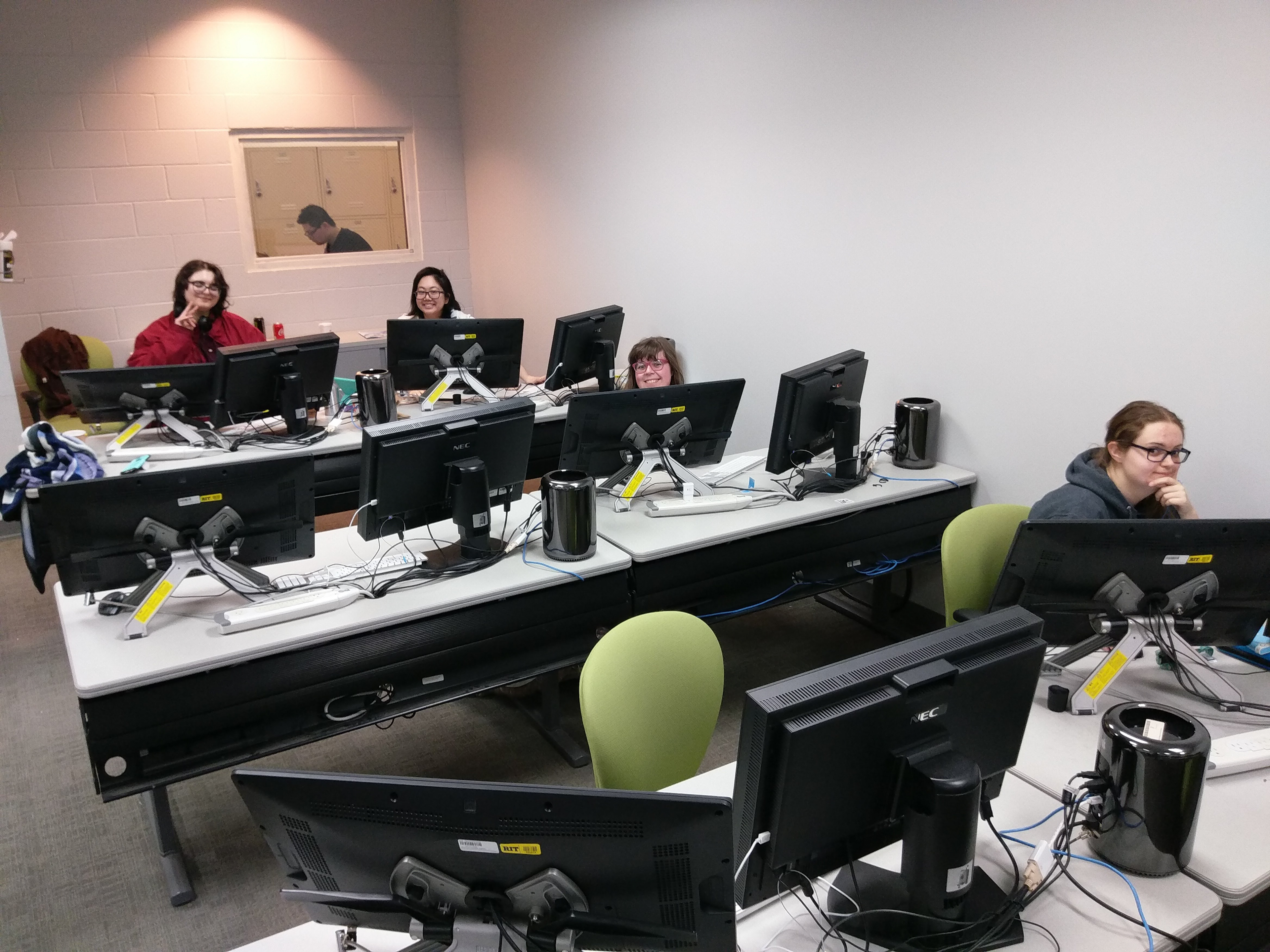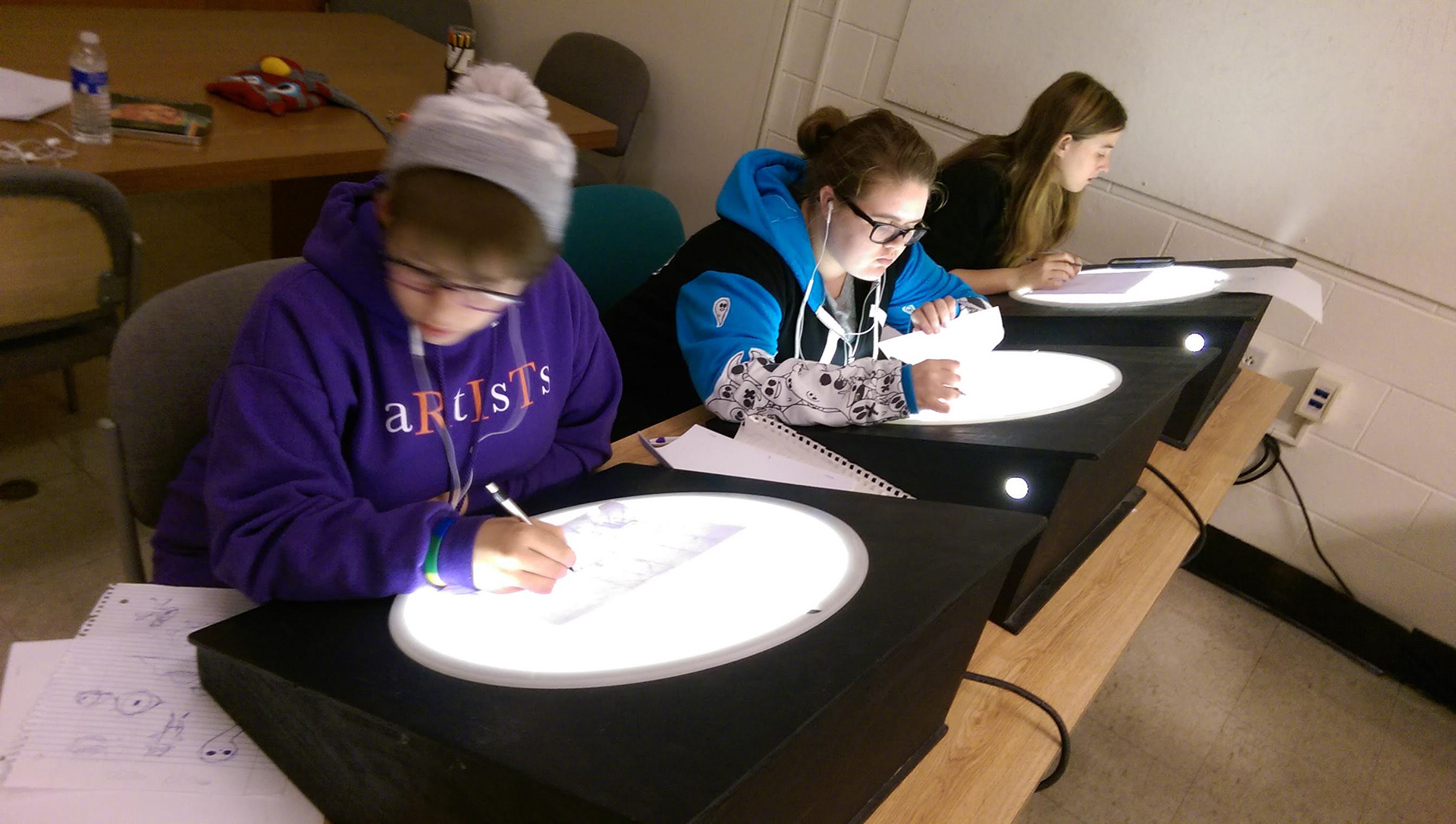 INTERNSHIP / CO-OP SPECTACULAR
I plan, organize, and host the annual Internship / CO-OP Spectacular.  For this event I coordinate with the Career Planning Center and supervise eleven students to create a fun, educational, and informative evening.  Students speak about their summer internship experiences at places like Gravity, The Third Floor, Cantina Creative, Chiodo Bros, Doodle Pictures Studios, Blizzard, Verve Talent and Literacy Agency.